The Easy Guide To Beautiful Bridal Bouquets
When it comes to your wedding day, every little detail counts and your flowers and bouquet are no different. At Guisachan House in Kelowna, we have been helping brides plan and execute their dream weddings at our historic Okanagan wedding venue for more than 30 years. For most of our brides, their bouquet is an integral part of the day, but choosing the flowers and style can be overwhelming. Use this guide to help narrow down your options when you are taking with your florist (or Georg at Guisachan House!).
Colourful Flowers
Most brides choose their flowers based on colour. Here's a quick breakdown of flower varieties, sorted by colour.
Blues and Violets
Delphinium, Hydrangea, Clematis, Hyacinth
Pinks
Clematis, Orchids, Roses, Tulips, Snapdragons, Ranunculus, Garden Rose, Oriental Lily, Peony
White
Daffodils, Chrysanthemum, Gardenia, Calla Lily, Ranunculus, Roses, Orchids
Reds
Gerbera Daisy, Ranunculus, Camelia, Roses, Amarilys
Orange and Coral
Chrysanthemum, Freesia, Calla Lily, Gerbera Daisy, Roses, Tulips, Amarylis, Carnation
Yellow
Tulips, Dahlias, Daffodils, Orchids, Cymbidium, Roses, Yarrow, Sunflower, Daisies
Green
Roses, Viburnum, Chrysanthemum, Carnations
Okanagan Flowers
There are several varieties of flowers grown in the Okanagan that make wonderful bridal bouquets.
Lavender
Roses
Lilies
Sunflowers
Daisies
Peonies
Allium
Hydrangea
Bouquet Style
The style of your bouquet may also impact the flowers you choose for your wedding. If you want a tightly-formed, round bouquet, you may choose roses. If you are looking for a bouquet that is a bit looser and natural looking, you may opt for a variety of flowers in various sizes. Below is a list of bouquet terms and styles.
Round
A round bouquet looks just like you you imagine it. Whether you opt for one colour and flower variety or a mixture of varieties, the bouquet is typically arranged in a large yet loose, round formation.
Nosegay
If you're looking for a small, perfectly spherical bouquet, the Nosegay is for you. This bouquet is often made of one type of flower in a uniform colour and the stems are cut to the same length and tightly wrapped to form a small round sphere.
Cascade
Cascade bouquets are reminiscent of waterfalls, with trailing blooms and vines that loosely hang from the arrangement.
Hand-tied
A hand-tied bouquet is designed to look natural, as if you went to the garden and picked your favourite blooms and then loosely tied them for your wedding day.
Pageant
Like the round bouquet, the 'Pageant' looks pretty much like you think it would. It's made of long-stemmed flowers that are cradled in the brides arms and it is a popular choice for those who love Calla Lilies.
Composite
The composite bouquet is a complex, handmade creation that wires together different petals and buds on a single stem, giving the illusion of a single, giant flower.
Bouquet Size
Size matters when it comes to the bridal bouquet and there are several things to take into account so that you aren't overwhelmed and upstaged by your beautiful flowers.
The Bride
The bouquet should be well-suited and scaled to the bride. A petite bride can become lost amongst a large bunch of flowers. Likewise, a small posy or nosegay arrangement may look too small in the hands of a statuesque and voluptuous bride.
The Gown
Be sure to consider your wedding gown when you are selecting your bouquet as they should complement one another for maximum effect. If you are wearing a large, sweeping ballgown, your flowers should be similarly large and impactful. If you are wearing a slim, sheath style dress, you may want to consider a more airy and relaxed hand-tied bouquet. Lastly, if your dress features a lot of embellishment like crystals, a sash, or bows, a large bouquet may hide the details, so a simpler round bouquet may be the best fit.
The Wedding & Venue
Your bridal bouquet should reflect the overall feeling and theme of your wedding. If you are getting married in a large cathedral, a more formal bouquet is a better match than a small posy or nosegay. If you are having a casual outdoor wedding, an ornate round bouquet may seem out of place.
No matter your personal style, the team at Guisachan House Restaurant in Kelowna can help ease the stress of planning your big day. Our historic wedding venue is located in the heart of the city with lush gardens and gourmet dining options. Best of all, we take care of every detail for you - including the bridal bouquet!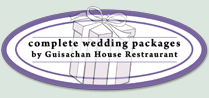 Open Year Round
Guisachan House Restaurant
1060 Cameron Avenue
Kelowna BC
Phone (250) 862-9368
Lunch Served Daily 11am - 3pm
Specializing in Weddings, year round, everyday of the week.
For Best Dates Contact Georg Rieder