Kelowna Wedding Photography: How to Pick the Right Photographer for You
Planning a wedding is not an easy task, and at Guisachan House we understand the decisions you need to make. We're all about making life as easy and as stress-free as possible for the happy couples that come through the doors at our lovely Kelowna wedding venue. Your wedding day is obviously an extremely big day, but that's all the more reason to make it enjoyable and as stress free.
One important decision you should make well in advance of your big day is selecting a photographer. This can be a daunting task, with hundreds of photographers of varying skill levels and price ranges operating in the Okanagan. So how do you go about picking the right photographer for you?
Start Early
The best photographers may be booked out more than a year in advance, so you need to get on this asap. When it comes to planning your wedding, your first two bookings should be for the venue, and then the photographer. If you'd like to hold your wedding at Guisachan House in Kelowna, call Georg and get an idea of available dates before you begin your search for a photographer.
Determine Your Budget
Naturally, how much you can afford to spend is going to have a considerable impact on which photographers you can and can't afford. Before you do anything else, sit down and determine how much you are prepared to spend on photographs.
Consider How You Plan to Use Your Photos
Looking to have t-shirts and mousepads printed for all your guests, or are you simply hoping to have the digital files? This will be good info to pass on to your photographer.
Decide on a Photography Style
From traditional poses to candid shots, there are many different photography styles out there. Try to determine which style you prefer, before you start looking at photographers. This will allow you to quickly evaluate whether a photographer is going to be a good fit for you.
Do Some Googling
There are a lot of wedding photographers in Kelowna. Jump online and start to look around. Start a list of all the photographers who fit with your style or who have portfolios that you like. Once you have your list, reach out with your date, venue info, and other important details to determine if the photographer is available and what their fees are (assuming pricing info is not posted online).
Research
Once you've heard back, those who are available, and within budget, are the "possibles". Now it is time to really dig deep and do some research. Look at online reviews, ask if the photographer can put you into contact with any of the couples they have previously photographed so you can ask questions etc., ask friends and family if they're familiar with the photographer. Ask the photographer about their experience level, equipment/backup gear, and insurance. Set up in-person meetings with your top 3, and see who you feel most comfortable with. Which photographer makes you smile?
Confirm
After you've done your research and you've found someone you like who is within budget, lock it in! Do not forget to confirm and make sure that you have contracts that clearly outline deliverables, timelines, and important details.
Considering Your Photographer Friend?
There's nothing wrong with asking a non-professional to shoot your wedding (perhaps you have a budding talented photographer in the family), but be realistic and fair. Realize that you are putting that person under a lot of stress, so make sure they truly want to take the job and aren't just being polite. Furthermore, they may have the skills, but not all the necessary equipment. Ask for the photographer to show you realistic examples of their work, so you know what to expect. And, of course, non-professionals should still be paid.
At Guisachan House Restaurant, we offer full-service wedding packages and we can work with you to help relieve your wedding planning stress - including helping you hire the perfect photographer to capture your beautiful wedding at our historic location.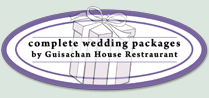 Open Year Round
Guisachan House Restaurant
1060 Cameron Avenue
Kelowna BC
Phone (250) 862-9368
Lunch Served Daily 11am - 3pm
Specializing in Weddings, year round, everyday of the week.
For Best Dates Contact Georg Rieder